Whenever someone tells you about a new superfood, vitamin, or supplement, it's always best to research the item before using it to avoid risk of injury, illness, or death. Stamping "Healthy", "Organic" or "Natural" on something doesn't make it fit for human consumption, although marketing companies might try to convince you that's the case.
Earlier this year, the Food Standards Agency (UK) and the European Food Safety Authority released a warning regarding raw apricot kernels (whole or powdered), which are sold as a "healthy" food containing B-17 (purported to guard against cancer or prevent its spread). They stated, "We advise that bitter apricot kernels including the powdered forms should not be eaten. This is because a naturally-occurring substance in the kernels changes – after people eat the products – to cyanide."
Basically, apricot kernels carry amygdalin (a glycoside found in many other fruits including apples, peaches, and plums), which turns into cyanide when it reaches the intestines. That's right – by eating this "healthy" snack, you're ingesting poison – and at an alarming rate. Thirty kernels is considered a lethal dose, and the recommended serving size on a regular package is between 12-15 kernels. If someone ate two servings of kernels a day, they could die.
Of course, the symptoms – which include nausea, insomnia, and headaches – could be misconstrued and indicative  of many other health problems, which could then lead to misdiagnosis and possibly, death.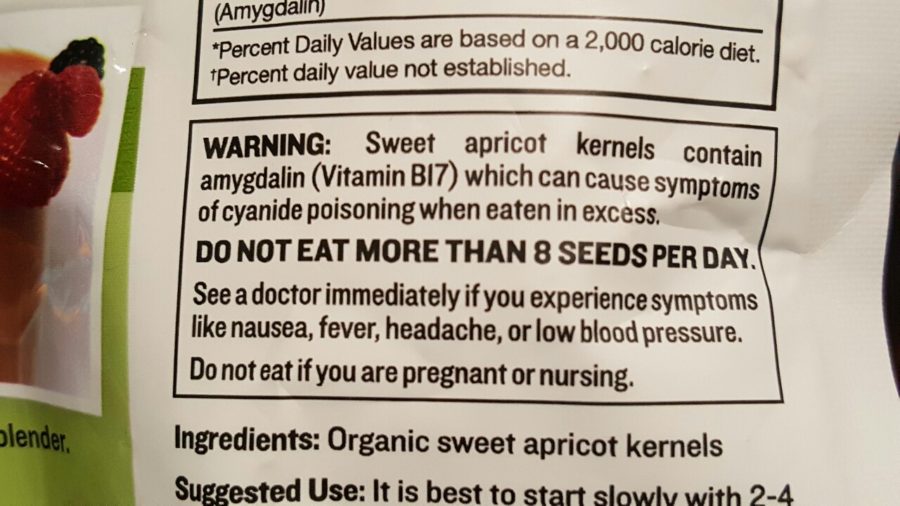 So what about grocery store items that contain apricot kernels, such as jams or pastes? Luckily, these are alright to consume. While apricot kernels are sometimes used as flavoring, the foods containing them are safe to eat because the kernels have been processed (typically with heat) and the amygdalin has been eradicated.
Be wary of new "health" foods – you can always find helpful information at the following: WHO, EFSA, FDA
By Kaitlin Cone