Enoteca Maria on Staten Island, NY, is a restaurant business with quite an extraordinary twist. Founder Jody Scaravella, who unfortunately, lost his mother, grandmother, and sister, in the past few years, turned his grief into passion by hiring numerous grandmothers to cook daily in his kitchen. That's right, you heard correctly. These women are not professional chefs, but they are professionals at creating some delicious old-fashioned comfort food. Any day at Enoteca Maria, there is one Italian grandmother, Carmelina, and another grandmother from around the globe cooking in Enoteca Maria's kitchen. When we say around the globe, we truly mean around the globe; Marita from Ecuador, Habiba from Algeria, Helena from the Czech Republic, and Zina from Syria, are only a few of these amazing comfort food cooks that are sharing their love of cooking and good food for the soul, with the customers of Enoteca Maria.
Anyone would wonder how this idea came to founder Jody Scaravella, in the first place. Besides dealing with the loss of the women in his own family, other customers would come in and talk about how much they missed the food from home, so from this repeated conversation with the clientele, Scaravella decided that he wanted to be the place where people could come and have that type of nostalgic experience. Most can agree that food holds memories of all kinds; family gatherings, romance, a baby's first holiday or birthday. We can all connect a good meal to a person or a place we have visited. From a health perspective, some may say, food is not love, but from a familial perspective, it is.
Not only is Enoteca Maria's experience a fresh and bold one for new and returning clientele, but it is also an amazing experience for the ladies who participate. You can tell from their smiling faces that they are happy to be sharing, that which is a huge part of their culture. This experience is opening them up to another world. It is one thing to cook for everyone in your own kitchen but very different to cook in a busy restaurant for someone who is waiting to enjoy a taste of home.  As of this October, the restaurant has opened cooking classes and restaurant training for the grandmothers who would like to join Enoteca Maria. The restaurant feels as if this is the next step to keeping this tradition alive. New "nonnas in training" will also have the experience of learning how to cook in a restaurant under the tutelage of grandmothers from various cultures.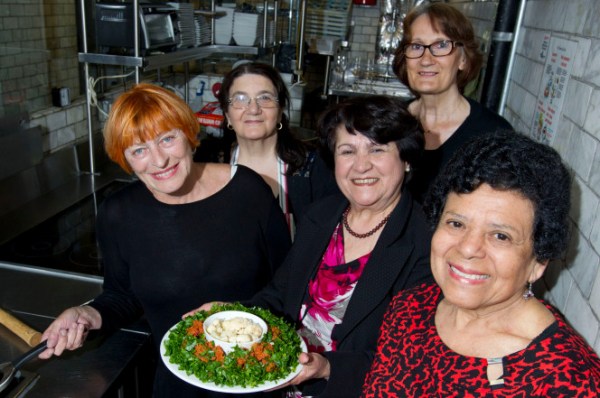 As you can guess, this program is getting much press and praise, particularly because it is such an innovative idea, and because founder Scaravella is a Brooklyn native. Many New Yorkers feel that Staten Island is the new Brooklyn; an up and coming area that used to be family-only, Enoteca Maria is now becoming an actual destination for New York visitors. With the restaurant business being as difficult as its always been, many closing in just three months, Enoteca Maria has created a niche that is going to be hard to copy. The menu changes regularly depending on what the restaurant chooses to offer and which culture they want to showcase.
If you are heading towards the Staten Island, NY area, treat yourself to a real experience at Enoteca Maria, and surprise yourself by choosing a dish you've never tasted. It may soon become one of your favorite comfort foods.